Welcome to our page for upcoming events happening at Land of the Vikings
Address: 461 Big Valley Rd, Susquehanna, PA 18847
---
---
Help keep LOV going with your generous donations
If you like to make a donation to LOV
Contact Roy Berntsen - (516) 791-3983 or Email Royb50@optonline.net
---
---
LOV's Upcoming Events!!
January Events
25th -27th - Nor-Bu Lodge Weekend
This is a fun filled family weekend. The games and events are geared for the children of all ages!
February Events
8th-10th - Chill and Relax at LOV!!!  Escape from the Everyday" Weekend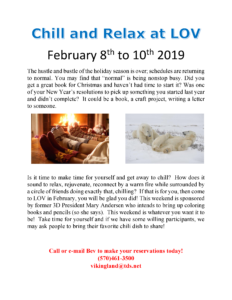 17th -23rd - Sky for Light
Come and be a guide for the unsighted and the mobility impaired. Its an amazing weekend to go skiing, skating, hiking, mountain climbing and lots more.
March Events
Feb 28th - March 3rd - Third District Board and LOV Meeting
22nd - 24th - Hudson Valley Lodge
This is a fun skiing and family weekend of all ages. Come and join them!
April Events
5th - 7th  - You are invited to Celebrate The Land of the Vikings 40th Anniversary
Join us for Our Gala Weekend Celebration With DJ Sean LeFluer
If you like to Advertise in our 40th Anniversary Gala Souvenir Journal, just click on the  2nd Flyer!!
12th - 14th - Oslo Lodge Anniversary
26th - 28th - LOV Work Weekend
Cleaning up the property after the snow season.
26th - 28th - Rosemaling and Wood Carving Classes
Classes start at 9 AM - 5 PM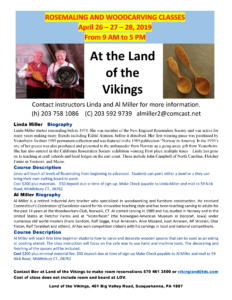 May Events
3rd - 5th - John Carlsen Golf  Tournament and Kentucky Derby
Whether you can golf or not, you are welcome to join in. It is also the Kentucky Derby Weekend to watch the race and cheer for your favorite stallion.
To make Reservations at LOV contact Bev at 570 461 3500 or vikingland@tds.net
Thank you so much for your support of the Land of the Vikings
Click the Flyer for more details and the Registration form!!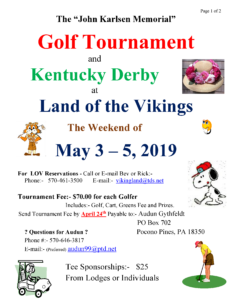 18th - 19th - Binghamton Hikers
24th - 27th - Motorcycle Club Weekend
This is a motorcycle family weekend where all are welcome. they enjoyed their first weekend at LOV so they are back again.
June Events
7th - 9th  - Omholt Reunion
15th - Zone 4 Scholarship Dinner
29th - 30th - Hudson Valley Hikers
July Events
1st - 6th - Fly Fishing Camp
7th - 20th - 3 D Youth Camp Ages 8 -15
21st - 27th - Sports For Health
August Events
2nd - 4th - Beck Reunion
16th - 18th - Lobster Fest
TBA - Stevens Reunion
September Events
6th - 8th - Canoe Weekend
TBA - Community Vendor and Garage Sale
20th - 22nd - 2nd Annual 3 D Kubb Tournament
October Events
4th - 6th - Fredriksten Weekend
11th - 13th - October Fest
24th - 27th - 3 D Board Meeting
November Events
21st - 25th - NY Hunters
29th - 12/2 - PA Hunters
*** Remember you are welcome to join the activities on any weekend, as long as there are rooms available.
                                        -The LOV Board
Land of the Vikings
461 Big Valley Road • Susquehanna PA 18847
Telephone 570 461 3500 • E-mail vikingland@tds.net
Subject to change without notice. Call for reservations